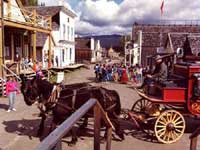 BARKERVILLE HISTORIC TOWN
Box 19
Barkerville BC V0K 1B0
T (250) 994-3332
F (250) 994-3435
Email barkerville@sbtc.gov.bc.ca

Welcome to a place where the fun's pure gold! In 1862, Billy Barker found gold at Williams Creek, a discovery that started a rush of fortune seekers from all over the world. Between 1862 and 1870, over 100,000 people travelled the Cariboo Wagon Road, named the Eighth Wonder of the World, converging on the goldfields, and the bustling boomtown of Barkerville. In its heyday, this was the largest town in the Canadian West.
Today, Barkerville endures as a town of discovery, a unique streetscape with over 125 heritage buildings, the Theatre Royal Shows, exhibits, entertaining street theatre during summer, and unique shops filled with Victorian-era merchandise. Popular special events are staged each summer.
Barkerville is located in a forested sub-alpine environment in the mountains 89 km (55 miles) east of Quesnel. Just follow the 'Gold Rush Trail' along Highway 97 to Quesnel, then take Highway 26 from there. On the way, you can stop in at Cottonwood House for a great introduction to the heritage adventure ahead! The picturesque little town of Wells is only 8 km west of Barkerville.
OUR HOURS
Barkerville is open year-round - 8 am to 8 pm
Full Visitor Services
mid-June and Labour Day
Admission fees are in effect from mid-May to mid-September.