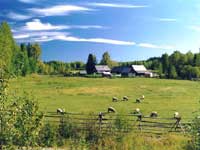 COTTONWOOD HOUSE
c/o Barkerville
Box 19
Barkerville BC V0K 1B0
T (250) 994-3332
F (250) 994-3435
Email barkerville@sbtc.gov.bc.ca

Constructed on the Cariboo 'Waggon' Road between 1864 and 1865, Cottonwood House served miners and travellers heading to Barkerville and the Cariboo Goldfields, or going west and south to Quesnel and Victoria. Horses were changed and hearty meals were offered to stagecoach drivers and passengers, as well as accommodation. In the General Store across from the house, all the hardware and provisions needed for survival in the mountain wilderness were available. John Boyd's family welcomed travellers and managed the site between 1874 and 1951! Cottonwood used to serve as a telegraph office for the Overland Telegraph, and you can still see some of its poles and wires here.
Now only a 25-minute drive from Quesnel, instead of four hours by stagecoach, Cottonwood still gives visitors a feeling of stepping back into Gold Rush times! Visiting this wonderfully preserved and restored pioneer farm is an ideal way to start your Barkerville adventure. You'll be standing amid surroundings that tangibly present what it was like to live in the Cariboo when the first farms and ranches were being established.
Cottonwood House is situated between the Cottonwood River and Highway 26, 28 km east of Quesnel and on your way to Barkerville. The original Cariboo Wagon Road runs right through the property as it heads toward the famous goldfields of the Barkerville district. Cottonwood is only a 25-minute drive from Quesnel and just 40 minutes' driving time from Barkerville.
OUR HOURS
Cottonwood is open from mid-May to September.