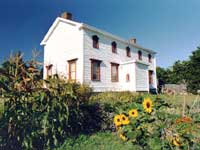 CRAIGFLOWER MANOR
Craigflower Manor and Schoolhouse
c/o 5th Floor. 800 Johnson St.
Victoria BC V8W 9W3
T (250) 356-5137
F (250) 356-7796
For Craigflower Schoolhouse programs call (250) 383-4627

This was one of Vancouver Island's first farming communities, established in 1853 along Victoria's Gorge Waterway to meet the Hudson's Bay Company's obligations to Britain to support colonization. On lands purchased from chiefs of the indigenous aboriginal people, Kenneth McKenzie oversaw construction of a self-sufficient settlement. The Kosapsom people still harvest shellfish, salmon and herring from the tidal waters that separate the Manor from the Schoolhouse.
Today, the original Georgian Manor house, partly built on the old H.B.C. post-and-beam design, still stands amid fields and gardens, and across the bridge the oldest remaining schoolhouse in B.C. Seasonal workshop programs give children re-enactment opportunities to experience Victorian life and attitudes about schooling!
Craigflower occupies several open hectares at the junction of Craigflower Road (Old Island Highway 1A, almost parallel with the main Trans-Canada Highway 1) and Admirals Road. It is just a 10-minute drive from downtown Victoria and directly accessible from the Trans-Canada via Admirals Road for those approaching Victoria from Duncan and Goldstream Provincial Park.
Craigflower is available year-round for booked tours and groups. Program offerings vary widely to suit the needs of individual tour groups. Daytime and evening programs can be arranged for any day of the week. Please be sure to call in advance for group visits.
Regular open hours are not scheduled for 2000
All activities are by appointment.